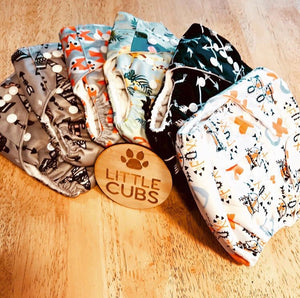 Bamboo Cloth Nappy
Regular price $24.95 Sale
Switch to our bamboo cloth nappies which are environmentally friendly and reusable to help reduce the billions of disposable nappies we throw away each year. By using cloth nappies you can save yourself and the planet around 6500 disposable nappies per child. Disposable nappies can take up to 500 year to decompose in our environment.
Each nappy is adjustable so can be used on bubbas from 3.5-16kg meaning this nappy will take you through your baby's nappy journey.  The reusable modern cloth nappies offer a level of comfort your child will adore. The luxurious bamboo cloth nappies are washable and reusable.
The outer shell is 100% waterproof PUL, the inner nappy shell is a suede cloth and the insert is bamboo making it super absorbent. There is a gentle leg elastic to ensure a snug fit and prevent leaks. Durable snap closures with adjustable sizes to create the perfect fit. Our nappies have a generous sizes pocket opening to insert and remove the insert with ease. Each nappy has a Little Cubs embroidered logo. Note: The insert is included, one insert per nappy.