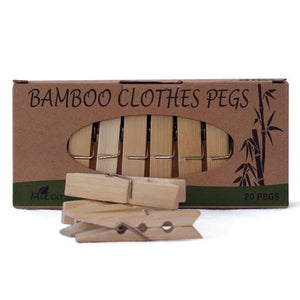 Bamboo Pegs (20pk)
Go Bamboo clothes pegs, made from sustainable, biodegradable bamboo with a degradable steel spring, packaged in a recycled cardboard box.
We are always finding clothes pegs washed up on our local beach, this is because they fall off the line and get flushed down drains by storm water, eventually finding their way into the sea.
Bamboo clothes pegs are an environmentally friendly and sustainable alternative to plastic pegs and are incredibly strong and durable in Australia's harsh UV conditions.
Bamboo naturally contains very few tannins (unlike wooden pegs) so won't stain your light coloured clothes.