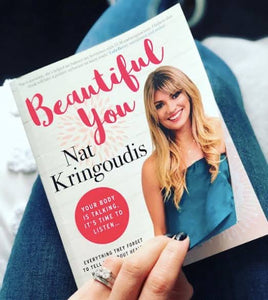 Beautiful You (Book)
Regular price $34.95 Sale
Join Dr Nat Kringoudis in this eye-opening book as she tells you everything your PDHPE teacher never did about how hormones affect sexuality, physical health and appearance and mental wellbeing. She will show you how to make your hormones happier than a Pharrell Williams song (and change your life in the process).
Your body is talking ... It's time to listen!
Feeling empowered and comfortable in your skin, understanding how hormone health affects your physical and emotional health, making good choices in your sexual relationships, and looking and feeling good – all this is possible with Dr Nat Kringoudis at your side. Let's face it, as young women we aren't necessarily taught everything we need to know about managing our hormones, our fertility and our sexual health; even our friends don't always share with us their anxieties about their bodies, or their emotional and sexual wellbeing. In Beautiful You, doctor of Chinese medicine, fertility queen and hormone health guru Nat Kringoudis will open the discussion on understanding your own body, balancing hormones and
sexual empowerment.
Through her clinical practice and her online resource, the Pagoda Tree, and her powerful fusion of Western and Chinese medicine, Nat has helped thousands of women change the way they think about their health, and so transform their lives: now you too can learn how to make your hormones happier than a Pharrell Williams song!