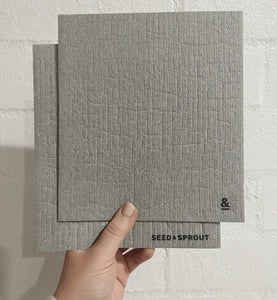 Cellulose Sponge - set of 2
Regular price $12.95 Sale
Seed & Sprout's Cellulose Sponges are a sustainable and eco-friendly alternative to the conventional plastic dishcloth. 
Replace your kitchen sponge and paper towel in one go!
These super absorbent sponges will mop up your mess, and can absorb 20x their own weight in liquid while they're at it. To get the most use out of them simply place them either in your dishwasher or washing machine and they'll come out good as new, ready to be used again and again!

These ones leave the kitchen bench and table looking completely spotless, plus they can be reused for up to 3 - 6 months. Not only does it save you a trip to the shops each week but this way you can also feel good about not needing to re-buy sponges with a much shorter lifespan! 

The best part about these is that at the end of their lives you can simply add them to your home compost!