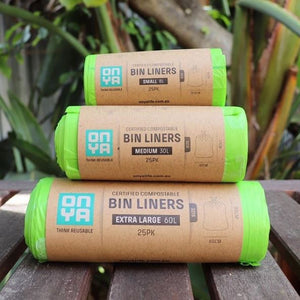 Compostable Bin Liners (25 Bags)
Regular price $18.95 Sale
Unlike some other bags on the market, our bags are CERTIFIED compostable to Australian, European, USA & Japanese standards, which means they have been independently assessed to break down to virtually undetectable levels in the soil and are deemed "worm safe" with no micro plastic residues left behind.
Our compostable bin liners are available in 4 sizes (8L, 30L, 36L and 60L) and are made from 100% GMO free renewable plants and are free from any plastic additives such as Polypropylene, Polyethylene, Polystyrene & PVC.
Our compostable bin liners are certified compostable in industrial composting facilities. As industrial composting facilities operate hot composts of between 50c-60c, our bags will break down within around 12 weeks. Our bags will of course break down over a longer period of time in general waste facilities, however due to the lack of necessary microbes found in these facilities it can take 6-12 months or more for the bags to break down to their natural cellulose beginnings.
Although at this stage our bags aren't certified "home compostable" they can still be used in this environment, but like a general waste facility will simply take longer to break down if not hot composted.
IMPORTANT NOTES FOR USE: As our liners are compostable, unlike traditional single use plastic bin liners, it is important they are used ideally within 3-6 months of purchase and kept in a cool dark space, otherwise they may start to break down.
Compostable bin liners need to be treated slightly differently to traditional plastic bin liners as the material they are made from is designed to break down easier than plastic – which is a good thing, however, this may mean that if placing wet waste in your bin liners you need to empty your bin more frequently as if moisture is added, the composting process may begin and could lead to spills or splitting when emptying your bin on a weekly basis.
If possible, wrapping your wet waste in old newspaper first may help increase the life of your bag by preventing moisture from building up.