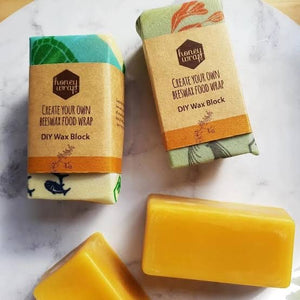 DIY Wax Blocks
Regular price $16.00 Sale
Have you made wraps using our Create Your Own Starter Kits and want to keep on making? Well now you can! 
These blocks are a special Honeywrap mix of NZ beeswax, jojoba oil and tree resin and will create awesome tacky wraps!

Each block is enough to make a set of 3 sizes, a small, medium and large.
There are a few ways to make your own wraps at home, and if you have used our Create Your Own Starter Kits before, you will be familiar!
Here's one easy way to make your own:
1. Turn on oven to 80° degrees. (Any higher will burn the wax and cause your smoke alarm to go off!)
2. Put your pre-cut organic (way better for your food and the environment) fabric on a piece of baking sheet on top of an oven tray. 
3. Grate your block of wax with grater and sprinkle evenly over the fabric, like you would a pizza - not too heavy handed like cheese. 
4. Put in the oven for about 5 minutes, until wax has melted. 
5. Pull out and use your brush to spread the melted wax to cover all areas as evenly as possible. 
6. Hang to dry and start using when cool!
7. Kiss goodbye to plastic!