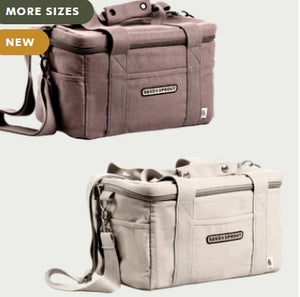 Insulated Organic Canvas Cooler Bag
Regular price $92.95 Sale
Introducing SEED & SPROUTS'; the perfect sustainable summer experience with our Insulated Cooler Bag! Let us focus on keeping the temperature of your food and drinks cool while you get home from the grocery shop or enjoy the beach, picnic or weekend away.
Ensure both style and sustainability with this classic Australian icon. Designed to fit all your essentials with two thick canvas handles, two additional shoulder handles and an external pocket, giving you more room and comfort to carry a day's worth of supplies while guaranteeing superior insulation. Perfect for packing pre-chilled items or using with ice bricks/packs. 
Enjoy a cool 15L or 23.5L storage space featuring a GOTS Certified Organic Cotton Canvas outer, a heat sealed recyclable PEVA liner and 100% cotton wadding insulation, to keep your food and drinks cool and protected. Embroidered with a cotton logo flag tag and reinforced base & lid, you can trust this bag's durable and reliable design. 
Soft but sturdy construction plus canvas handles
Cotton wading for insulation instead of plastic
Recycled PET Zips
Easily cleaned with a damp cloth
Two colours and two sizes available
100% GOTS Certified Organic Canvas
Signature logo embroidery

A generous size for a grocery shop, a day trip or a family picnic down at the beach.