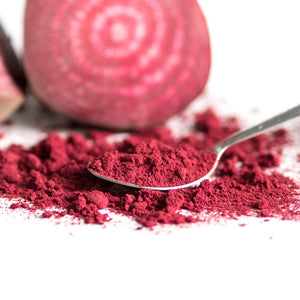 Organic Beetroot Powder
Organic Beetroot Powder is made from fresh, mature 100% organic beetroot that has been washed, cleaned and dehydrated before being ground into powder.

Beetroot is a nourishing root vegetable containing goodness such as antioxidants, dietary fibre, calcium, iron, potassium, folate and manganese. It is naturally rich in nitrates that assist with blood circulation, as well as betaine, which is helps promote good cardiovascular health.

Organic Beetroot Powder can be used to add a nutritious, sweet, earthy flavour and vibrant red colour to cooking.

This Beetroot Powder is a certified organic and unrefined product, therefore contains NO anti-caking agent or free flow additives. This may result in the powder clumping together when in storage over time.