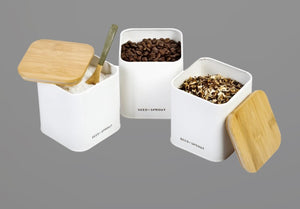 Seed & Sprout 3 Cannister Set
Regular price $59.00 Sale
Declutter your kitchen, keep your plastic-free produce fresh and store it all in style with our new Pantry Storage Tins.
It's all well and good doing a plastic-free shop, but storing it plastic-free is a must too!
Add this trio to your collection of sustainable storage and say goodbye to plastic in your kitchen once and for all. Or, these beauties make the perfect sustainable gift for a loved one!
Our Pantry Storage Tins are perfect for storing a multitude of items. We've been storing our tea, coffee, sugar, baking ingredients & nuts but the options are endless!
They also match back perfectly with our Bread Box & Compost Bin.